Greenland 2007
Using science and education, the Expedition's goal has been to create awareness about global warming with an emphasis on the melting of Greenland's glaciers and pack ice in particular.
Our local goals:
In July 2007, Sagax scientific and environmental eco-science team measured global warming impact on wildlife in the Arctic region of Greenland: Ivory Gull, polar bear, bowhead whale, lichen, etc…We also reached the Top of Greenland (Highest peak in the Arctic), a symbol of Greenland's shrinking ice-cap, while collecting lichen samples and censusing ivory gulls colonies in the peak's region. Reach the Top of the World: the Northernmost point of land on earth (this area, rich in flora and fauna which will be analyzed and measured, is particularly sensitive to global warming).
Destinations:
Highlights of the expedition Top of Greenland: Hvitserk (Gunnbjørnsfjeld): 3693m/12,168' Camp Icefield (100km north of Gunnbjørnsfjeld): Our team will locate, count and survey ivory gull colonies, a barometer of local climate changes.

Kap Morris Jesup/Oodaaq Qeqertaa: Northernmost point of land in the world. Our team will try to reach the Northernmost dry point on Earth. In that effort, we will be helped by Ben, an expert in paramotoring. Greenland - Northeast islands: Our team will survey the local polar bear, bowhead whale, walrus and ivory gull population and their recent evolution.

Cape Morris Jesup Northern Greenland.
Living on the edge of a shrinking habitat: the ivory gull, Pagophila eburnea, an endangered sea-ice specialist
Presentation of the expedition - Video in FRENCH:
Luc Hardy
Luc is and adventurer, author, and member of the Explorers Club. Graduated from Centrale Paris, he is president of Sagax, a US-based investment and management advisory firm.
He has pursued a personal goal of traveling extensively across the globe, frequently with family; photographing and reporting from remote places to raise awareness for global causes.
Luc has led an expedition to Antarctica in 2003 to highlight the region's importance as a regulator of global weather systems. Additionally, in 2007, he led a team to Greenland to explore the effects of climate on the migrating bird populations. His voyages have resulted in the publishing of two books: Antarctica Adventure (2004) and Greenland Impressions (2007).
He lives with his wife, Mary, and their two daughters, Flaam and Aïnhoa, between Greenwich, Connecticut and in Paris, France.
Olivier Gilg
A life dedicated to the wildlife of the Arctic
- Researcher Nature Reserves Network
- President of GREA (Group for Research in Arctic Ecology)
- Working for conservation agencies in France since 1993
- Numerous trips in the Arctic regions: Svalbard, Siberia, Arctic Canada and mainly NE Greenland.
Brigitte Sabard
Brigitte was educated as an environmental scientist. She teaches at University of Bourgogne (Dijon, France). She has participated in over 30 arctic expeditions since 1990 (18 with the GREA scientific missions, and 8 as a logistician for the Barneo base camp near the North Pole).

For the Sagax Greenland expedition, Brigitte is in charge of logistics and communications. She also assists in the flora and ivory gulls research program. In addition, she will run our filming activities along with preparing educational programs.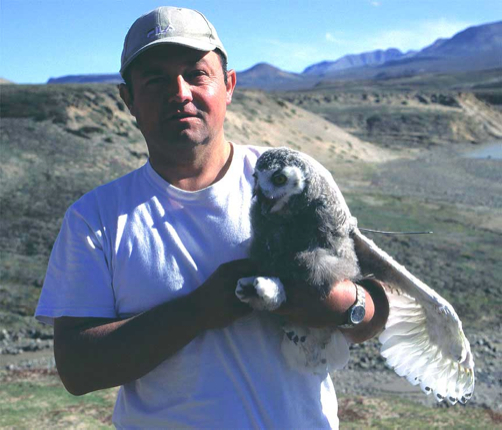 Adrien Aebischer
Adrian works as a researcher for the division of Conservation Biology at the University of Bern and for the Museum of Natural History in Fribourg (Switzerland).
He is particularly interested in bird migration and bird conservation. In the past years he led several projects dealing with satellite telemetry in different bird species.
He participated in 3 different expeditions in the High Arctic, especially in NE Greenland and researched the Low Arctic several times.
Francois 'Ben' Bernard
Ben is a professional high mountain guide in Chamonix. He has done over 300 ascents in European mountains, including 10 first ascents.
Has summited the Everest and reached the South and North poles where he regularly returns [TBC]. Ben was the first Frenchman to reach the North pole by foot from Russia (1000kms - 55 days) and the South Pole from Berkner island (1350kms - 50 days).
With he ascent of Everest, he is one of only three mountaineers in the world to have reached the three poles. Ben will also lead our paragliding attempts.
Vladimir Gilg
Son of Brigitte and Olivier, "mascotte" of the expedition. At age 4, Vladimir has already four arctic expeditions under the belt (North and East Greenland 2003-04-05, Alaska 2006).
Baptiste Bernard
At age 13, Baptiste is already an accomplished mountaineer, having followed is father Ben both on foot in the Alps, and in the air on his paraglider.
Flaam Hardy
At 16, Flaam is the eldest of two daughters. She is bi-lingual in French and English and lives in Greenwich Connecticut. She loves to rock climb. Her main school interest is in biology. She is a soprano and sings in choir. She has extensive travel experience and has been to Ethiopia, Vietnam, Cuba, Bolivia among others. She developed a keen interest in climate change, and is interested in learning more after her trip to Greenland last year.
In her Words: "I was born and live in Greenwich, Connecticut. It's a great because we live by the ocean and at the same time only one hour away from New York City, where I go as often as I can. My sister Ainhoa is 14 and will take part in this expedition with me.
I just turned 17 and next year will be a senior in high school at the French-American School of New York. Although I'm not sure which college I would like to apply to, I would love to study biology, environmental sciences and psychology. I'm bilingual in French and English and am learning Spanish. I hope to study abroad in either Spain or Argentina to become fluent!
I started rock climbing 3 years ago. I climb indoors with other teenagers but have been climbing outdoors as well (at the Gunks north of New York). I climb around 5.12s if that means anything to you. When I was 14, I passed my PADI diving license and since then I dive whenever given the chance (though I do not plan on diving in the artic ;)) A couple summers ago, I toured England and Scotland with my choir. Our family loves to travel and we have been to Ethiopia, Vietnam, Cuba, Bolivia to name a few. Not only has traveling offered amazing experiences but it has also helped develop my passion for photography.
I was first introduced to climate change by my father on our trip to Greenland in June 2007. I am looking forward to this trip to develop my knowledge about the changing conditions of our earth. We are planning to study the cracks in the northernmost ice-shelf of the Canadian Arctic which should be really exciting."
Ainhoa Hardy
Plays the Piano and violin. Took up Rugby in school last year! Likes Art classes more than math, English. Likes to cook, especially bake. Has a cockatiel named Cuicui. Climbed Kilimanjaro over 1 ½ week when she was12.
In her words: "I'm Ainhoa and I turned 14 on April 11th. I will be entering 9th grade in the fall at the French-American School of New York, a bi-lingual school outside of New York. I began playing both the piano and violin when I was 6 and I still spend a lot of time playing today. I learn mostly classical music with my teacher but I love to play pieces from the Beatles, Billy Joel etc. This year played basketball for my school and also started rugby. They play a lot in France, the world cup was held there last year. It's a hard sport but a lot of fun! At school, I mostly like art class, I love to paint (I find it a lot more fun then math and physics ;) ). I enjoy cooking, especially baking deserts (all sorts of chocolate cakes, cookies) In February 2007, when I was 12, I climbed Mount Kilimanjaro in Tanzania with my sister and father over 2 weeks. The climb took a huge amount of effort and was very demanding, both physically and mentally. I was so proud when I got to the top and finally saw the sunrise. I am glad to say I climbed one of the seven summits! The best reward was that we raised over $10,000 for the Save Darfur Organization at the same time! Every summer I spend a month in France to visit my family. We spend time horseback riding, swimming at the beach in St Malo, or shopping in Paris. I also sing soprano in a choir with my sister and I've been in a few school plays. I hope that one day I will be able to be on Broadway!"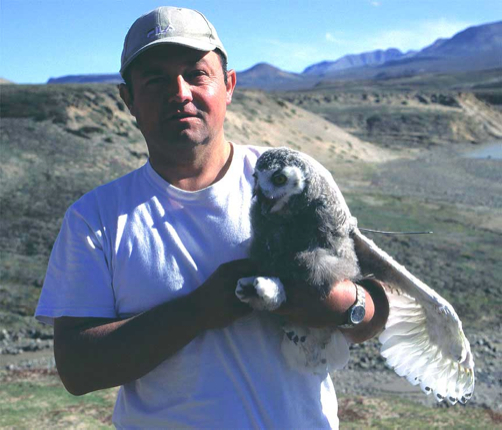 Luc Hardy on News 12 CT's Education Notebook - June 12, 2007
Ottawa, last minute preparations for the Young Ambassadors:
JUNE 17, 2007.
Preparing equipment before loading the Twin Otter. Departure tomorrow for Greenland. The big skis are for the plane!
REVO encounter in Reykjav.
Fitting Radio Transmitters on skuasrtert - July 2, 2007.
KAFFEKLUBBEN – July 5, 2007 - The northernmost island and land mass on earth!
Henrik Krøyer Holme island (north east Greenland) - July 10 to July 15, 2007.